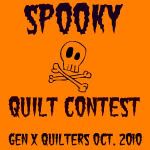 AnneMarie at
Gen X Quilters
is hosting a Spooky Quilt contest, and I've entered the Little Witch quilt I made last year.
This quilt was made for a mini quilt swap at sewingmamas.com; I should have made a twin of it to keep! I guess I can still do that one of these days if I really want to.
I would love it if you head over and
vote
for me. Or for someone else, if you like their quilt better. The winners get some cold, hard, fabric!
Also--last year when I made this quilt, I wrote up a
tutorial
on how to make the little wonky pumpkin quilt blocks. They are pretty easy, and cute too, I think. I'd love to know if you sew one up!