Hello, I am Natalia from
Piece N Quilt
. I am so honored that Vicki asked me to be a guest blogger here on her blog today! I am really inspired by Vicki's work, I really love her Figgy Pudding quilt and someday I'm going to make one for myself!
A little about me, I was born and raised in Heber, UT, a small town in the Utah mountains. I was born on my Great Grandmother's birthday who was a very avid quilter and won many awards for her quilts. I claim that's where my love for quilting came from. My mom is very talented with fabric, decorating and designing so I have, and still do lean to her for a lot of advice and support.
Three years ago, while pregnant with my daughter I got this crazy idea, a pregnant mind, and made an impulse purchase and bought a Gammill long arm quilting machine. I initially bought it with the intent that I would have something to do while being a stay at home mom. I didn't realize that I had a drive to do more and more. Just quilting for fun wasn't enough. Within a year of purchasing my machine I had won two different awards for my quilt "Daisies and Lattice". My mom designed this quilt and I pieced and quilted it. It did go on and win a few other awards as well.
Last year something crazy hit me and I became OBSESSED with pre-cut fabrics. I traveled around Utah teaching at quilt guilds, retreats and presenting trunk shows about pre-cut fabrics. My mom and I again made this "Strut Your Stuff" quilt entirely from Jelly Rolls and won Judges' Choice at one show and Best of Show at another quilt show.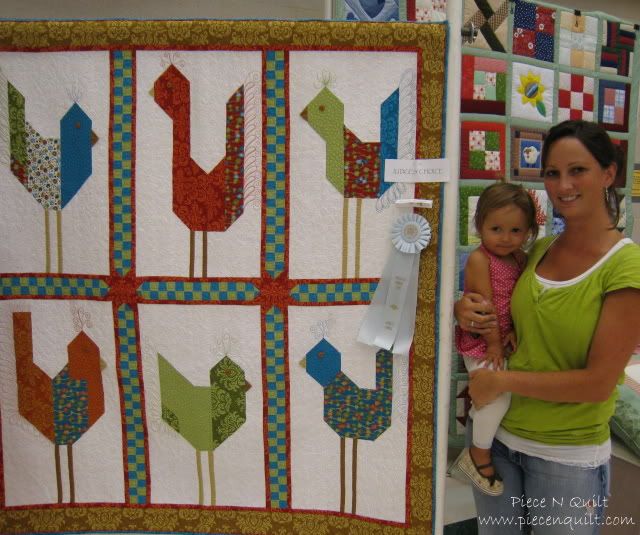 (I intentionally used pictures with my daughter so you can see how most of my time is spent.)
This past December I was honored when I was contacted by Moda Bake Shop and asked to design quilts for them from pre-cut fabrics. I have designed two quilts so far and have two more in the works.
I work full time from home with my online quilt shop
Piece N Quilt
or my
blog
. You can come over there and check out what I'm up to each day!
I'm also offering a 15% discount off your total purchase today only when you use discount code "Vickiblog".
Thanks again Vicki! Thanks for inspiring me each day!
~Natalia