I finished up the binding on this quilt the other day, and this morning I saw a post about the
Summer Fair Quilt Show
, hosted by Gen X Quilts, so I decided to join in the show!
I made this quilt top last year, I think in March, just for fun. Did the
quilting
over a few days during the last couple weeks, and finished it yesterday. It's 36" x 48", and it's just going to hang around at our house for now.
Go visit the fair, and see all the cool quilts! There are recipes, too!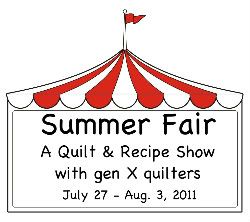 ****
I've been working on some more Farmer's Wife quiltalong blocks, and blocks for my doll quilt swap too. I guess I'll do a quilt block post soon here.
****
It has been super hot here for days, no, weeks. (I don't watch the weather, but other people in this house do, and they are saying we've had something like over 30 days with a heat index over 100 so far this summer). My 11 year old just got out his 5th grade solar cooker and I think he's making hot dogs for dinner tonight.